Paris Open Source Summit
November 18-19, 2015
Venue: Docks de Paris (La Plaine Saint Denis).


The AppHub Project is well represented this year at POSS, among several EU-funded projects in a session called EU Collaborative Innovation, prepared by OW2.
See the video of AppHub Market Place demonstration: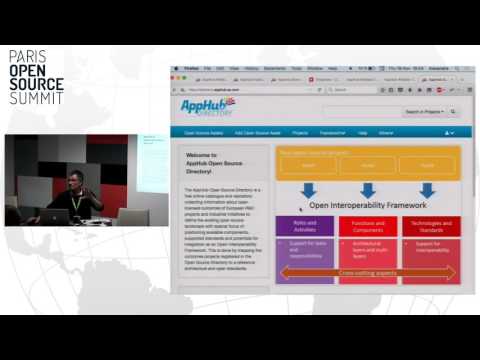 OPEN SOURCE COMMUNITY SUMMIT: This experience-sharing workshop federates leaders and practitioners from free and open source software communities. The open discussion is focused on best practices in open source project management, a topic much appreciated during POSS 2015 audience.
| Speaker | Presentation Title | Slides/Video |
| --- | --- | --- |
| Thierry Carrez, OpenStack | Best open source development practices, straight from the OpenStack trenches | |
| Roberto Di Cosmo, IRILL | Achieving impact with Open Source Software: from theory to practice | |
| Jim Jagielski, Capital One | Lessons Learned: The Apache Way | |
| Gaël Blondelle, Eclipse | User Driven OSS Communities - Patterns of Collaboration  | |
| Sophie Gautier, Document Foundation | Easy-Hacks everywhere! | |
| Stephen Walli, HP | Patterns and Practices for Open Source Software Project Success | |
| Simon Phipps, OSI | It's Time To Specify Software Freedom | |
EUROPEAN COLLABORATIVE INNOVATION: Showcasing multinational EU-funded innovative open source projects. Through a selection of state-of-the-art research project presentations, the session on Collaborative Innovation illustrates how multinational partners leverage open source in European programs to help shape the future of the IT industry.

| Speaker | Presentation Title and Project represented | Slides/Videos |
| --- | --- | --- |
| Peter Deussen, Fraunhofer FOKUS, Alexandre Lefebvre, UShareSoft | AppHub, the European Open Source Market Place | |
| Jesus Gorroñogoitia, ATOS | The challenges and prospects in software modernization: ARTIST insights | |
| Stefano Scamuzzo, SpagoBI Labs by Engineering Group | BDVA: the booster of European Big Data Value research, development and innovation | |
| Guillaume Pierre, IRISA | Cloud application performance modeling in ConPaaS (HARNESS project) | |
| Geir Horn, University of Oslo | A discovery workshop through PaaSage | |
| Gaël Blondelle, Eclipse | Amalthea: Open Source as an adoption booster | |
| Django Armstrong, University of Leeds, UK | Towards A Self-Adaptive Energy Efficient Cloud FOSS Toolbox (ASCETiC Project) | |
| Alessandra Bagnato, SOFTEAM | Into-CPS, an integrated "tool chain" for comprehensive Model-Based Design of Cyber-Physical Systems (CPSs) | |
| Marcos Almeida, SOFTEAM | MODAclouds, project, MOdel-Driven Approach for design and execution of applications on multiple Clouds | |
About Paris Open Source Summit
Systematic Paris-Region and Tarsus Group merged Open World Forum and Solutions Linux in order to federate the European open source community around a unique event, the Paris Open Source Summit. Please check the programme on the event website POSS'15
The OW2 community is highly involved in this event. Take this opportunity to visit our booth and to meet with our members and partners during OW2con'15 parallel event, the annual conference of OW2.